Ultrafine pulverizer improves Chinese medicine efficacy
In today's rapid development, some efficiency is completed by the machine, the ultra-fine pulverizer is extremely important in Chinese medicine pharmaceutical, let's take a look!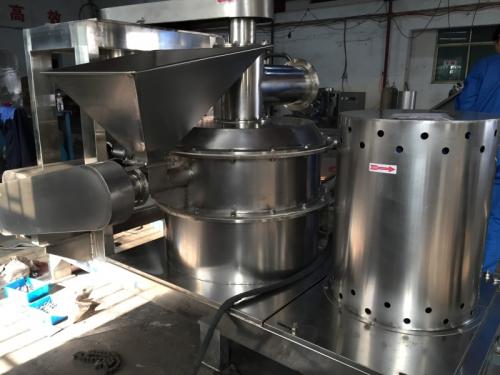 The ultrafine pulverizer can effectively improve the traditional extraction process. After the ultrafine pulverization of Chinese medicine, the contact area of ​​the solvent is greatly increased, and the extraction time can be shortened, and the effective component transfer rate is improved, energy saving, and improve the comprehensive utilization of raw materials. Then there is a more advantage of the ultrafine pulverizer and the traditional extraction process. Ultrafine pulverizer can improve existing dosage form. After the Chinese medicine has been subjected to ultrafoil, its particle size is decreased well, the specific surface area increases, and the porosity increases, so that the drug can be better dispersed, and the utilization is improved. The ultrafine pulverizer can better reserve effective ingredients. For a lot of precious Chinese herbal medicines, the effect of pulverizing the ultrafine powder machine in Chinese medicine is very good. For example, if you smash Ganoderma lucidum, it can make Ganoderma lucidum effective. Because Ganoderma lucidum contains a wealth of amino acid trace elements, these materials can be better effects by ultrafine pulverization. So, for many precious Chinese herbal medicines, choose to use Chinese medicine micro-powder machines to make the pharmacodynamic effect. The ultrafine pulverizer has a windpicity, no screening Internet. The grading mechanism is equipped in the machine, which can be smashed and classified once. Negative pressure conveying the heat generated in the chamber during the pulverization operation, so it is also adapted to the pulverization of the thermal material. Chinese herbal medicine ultrafine powder machine Chinese medicine ultrafine pulverized technology can make the particle size of the medicinal material to the cell breakage, so that drug cells and intracellular active ingredients are directly released. Direct use in clinical improvement of bioavailability, and significantly improve the speed and effective component extracting ratio of traditional Chinese medicine when used for the effective ingredient extraction of Chinese medicine.